Net worth & INVESTMENT tracker
Privacy focused – Anonymous
All your assets covered. Stocks, ETFs, crypto, FX and more.
Easy to Start
Just enter the quantity of your stocks and crypto: their value is tracked automatically. Update the value of your other assets, like bank accounts, mortgage etc manually.
Powerful features
Organize in portfolios. Real time prices, dividend tracker, allocation view, customizable dashboard, historical charts, pie charts, Face ID & Fingerprint authentication and more.
Privacy first
Your financial information stays on your device. Enjoy the full functionality without creating an account. You are free to export your data at any time, we never lock you in.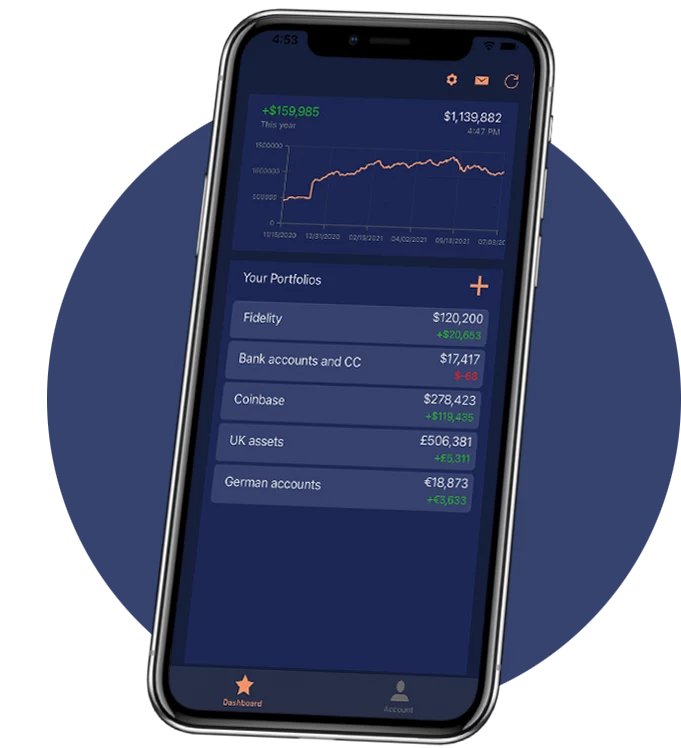 Pricing
Free
Powerful features at no cost
---
Unlimited assets/portfolios
End of day prices for stocks, crypto, ETFs
Historical dividend tracker
Import/Export data
Face ID/Fingerprint/Pin protection​
Account syncing
Premium
Access
---
Everything in Free, and
Real Time Prices
Upcoming dividends
Retirement age estimator
Support an indie team
Priority Support
User reviews
---
Divyaprabhakar31
I don't like the idea of linking apps to my accounts, so I like the manual entry with an app that just tells me what it's worth that day. Also being able to track our different accounts separately is a big plus.
---
Ryan Ivers
Exactly what I was looking for. Easy to use and tracks all my investments perfectly. To top it off amazing customer service. After asking where to find a specific asset type I had a short conversation with the support, within an hour the asset was added to the app.
---
Ramon Minor
Stable, simple and FREE. No hidden fees, only donations. Perfect to keep track of your net income and monitor graphically spending/income
Latest from our blog
Saving money and retiring early is a dream that many people share. However, achieving this goal requires careful planning and a solid understanding of your financial situation. One key aspect of this planning is understanding the role that workplace pensions can play in helping you save for retirement and achieve financial independence. In this article,…

Saving money for wealthy people is different than saving money for the middle class because they have different financial goals, resources, and challenges. Wealthy people often have a higher income and more assets, which gives them more flexibility and opportunities for saving and investing. For example, they may have access to higher-yielding investment options, such…

TrackMyStack is able to sync your portfolio and assets between different devices (eg. your phone and tablet). A lot of other apps or services compromise on your privacy in their implementation of syncing. We are committed to keep our promise that your net worth and portfolio details belong only to you and it will never…